It is with huge emotion that we can finally officially announce that Hame Fae Hame has been recognized as one of the the top small companies of 2020 in the UK!
Last year was a challenge! I hope we have used it as a learning process and valued what is good about our lives in such trying times. Thank you so much to Gemma who nominated us, we really needed this right now and it means so much!
From Shetland News (Click here to read the full article):
"Business owner Kaye Sandison said she and her staff were "just delighted" to receive the happy news. They were nominated by a mum, Gemma MacGregor, whose three children regularly attend the village's childcare service.
The award went to businesses that showed special resilience and innovation during the Covid-19 pandemic, and Kaye said there was no doubt her 13-year-old enterprise had to adapt by "thinking on our feet from day to day as things kept changing" throughout 2020.
"It was perfect timing for us," she said. "We're all really tired now – I think everybody is, it [the pandemic] has gone on for so long. It was really nice that it was a parent that nominated us.
"Considering there was over 800 nominations, and we're a tiny company in the middle of the North Sea, it was just really lovely to get the recognition."
Lloyds Banking Group's business banking managing director Gareth Oakley said: "Kaye and the team have gone above and beyond to help others time after time – their community spirit is an inspiration."
It is quite a transformation in fortunes for Hame Fae Hame given Kaye seriously feared for the business's survival when Covid-19 struck 11 months ago.
"We were looking at bankruptcy at the beginning of March [2020]. We had virtually no bairns, over 20 staff, and I just didn't see how we were going to be able to pay the rent or the wages at the end of the month," she said.""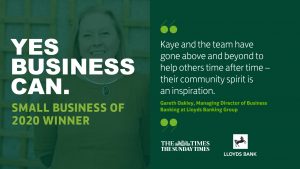 ---
From the Leaders Council (Click here to read the full article):
"Small and local businesses across the UK have shown unprecedented levels of innovation, resiliency and energy to meet the challenges thrown up by a tempestuous year 2020 that was blighted by the Covid-19 crisis. In recognition of the trials and tribulations of business over the last year, The Times and The Sunday Times in association with Lloyds Bank launched the 'Yes Business Can. Small Business of 2020' competition, offering winners a unique opportunity to win a virtual mentoring session with one of four experienced business leaders.
The nominees were comprised of a wide range of successful small businesses who were all vying for the chance to garner insight and support from the virtual sessions. Judged by Be the Business CEO, Anthony Impey, the winners were chosen from the nominees based on how quickly and creatively they adapted to the challenges of 2020, and how they went above and beyond client's expectations.
One business that was deemed to have been head and shoulders above the competition in this respect was Shetland-based childcare provider, Hame Fae Hame. Founded by Kaye Sandison [pictured left] and incorporated in 2008, the company provides childcare services for children aged one to 12 and is one of just three private childcare settings on the island of Shetland."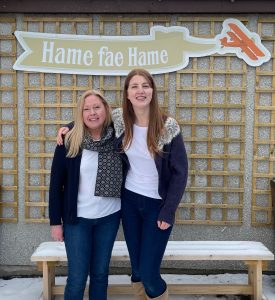 ---
BBC Sounds – Kaye interviewed on BBC Radio Shetland (13:45s)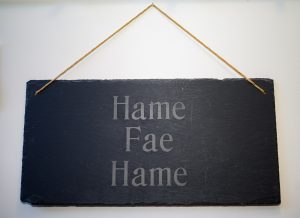 ---
From Children in Scotland – Shetland childcare provider wins small business of the year accolade (Click here to read the full article)
"A childcare provider supported by the Access to Childcare Fund has won a major business award in recognition of how it responded to the challenges of coronavirus.
Hame Fae Hame, based in Scalloway on the Shetland Islands, won the Times / Lloyds Banking Group Small Business of 2020 Award, beating UK-wide competition.
The centre was rewarded for the creative and robust way it responded to the pandemic, strengthening childcare support for frontline workers and deepening outreach work with the local community.
Manager and owner Kaye Sandison says she and her colleagues "feel privileged and valued" that their work during lockdown has been recognised.
Hame Fae Hame is one of 15 providers awarded grants last year by the Access to Childcare Fund, which is funded by the Scottish Government and managed by Children in Scotland."